See the Difference. Feel the Difference...Precision!
Precision Joint Solution Plus is an innovative supplement scientifically formulated to support and maintain the health of your equine's joints and connective tissue.
Through extensive research and studies we have developed the most synergistic and cutting-edge leg support system. Precision Joint Solution Plus contains two powerful ingredients that together, are not found in any other equine product on the market today.
Our exclusive patent-pending component called Natural Egg Membrane (NEM) provides powerful building blocks for healthy joints and tissue. Together with our proteolytic enzyme Ananas Comosus, which helps support by its ability to increase, overall comfort, along with supporting the body's immune function, we have created a complete and total leg support system.

Precision Joint Solution Plus has key ingredients of enzymes and egg membrane not only supports the joint's integrity, but the connective tissues and bone as well. NEM is a unique ingredient containing immense levels of Collagen, Glucosamine, Chondroitin, Hydraulic Acid, Elastin Proteins, and Transforming B Factor. These materials are known to be key aspects for supporting healthy tendons, ligaments, cartilage, hooves and joint integrity. The combination of reduced cartilage breakdown, increased circulation and the support of the body's natural healing processes are the foundation of this unique synergistic approach to joint and leg health.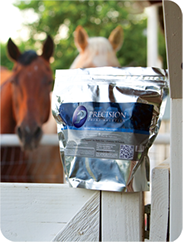 Key Benefits of Precision Joint Solution Plus:
• Increase in mobility
• Building Blocks for healthy joints
• Promotes hoof quality and growth
• Promotes health of tendons and ligaments
• Promotes strong bones
• Lustrous coats
• Increased level of key active ingredients
• Provides comfort for horses predisposed to stiffness
• Maximized overall comfort

Precision Joint Solution International Ltd. COPYRIGHT © 2017 Site Designed by 360Creative.ie.